Mama Maggie Gobran | Stephen's Children | Egypt
Mama Maggie is the founder of Stephen's Children and a mother to thousands of children throughout Cairo. Stephen's Children has a mission to help save lives, bring hope, and restore dignity to under-privileged children and young people so they may reach their own people. They work in the slums and squatting areas of Egypt. By building strong trusting relationships with poor and vulnerable children and families, they are brought in to nurture, train, and equip these vulnerable people.
Stephen's Children works to the ultimate purpose of glorifying Jesus Christ and equipping His church to do the same. They approach this goal in three primary ways:
Nurturing Hearts
Developing loving relationships through one-on-one mentoring and basic human assistance.
Training Minds
Offering educational opportunities for a better life including early, elementary, and secondary education, as well as vocational skills.
Equipping Lives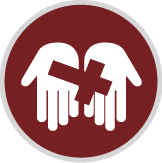 Making God's word available to all for encouragement, instruction, and memorization.
---
Programs include:
Farah School
Weekly home visits
Community Education Centers for early childhood education
Literacy Classes
Mother's Gatherings
Sports Camps
Vocational Training Centers
Medical support across several projects
---
Stories of Stephen's Children's Impact: